Offering an easy to navigate pay-as-you-go service, here, at Midland Health, we are committed to providing comprehensive healthcare for all the family.
Our state-of-the-art private clinics are located in key areas across the Midlands, including Birmingham, Leicester and Liverpool. There we offer private and confidential consultations that give our patients the space to relax and talk through any health concerns with an experienced professional who can provide much-needed answers.
Our goal is to empower individuals to take the lead in their own healthcare, whilst we pick up early signs of ill-health and take action quickly to ensure you benefit from the excellent care you deserve. At Midland Health, you can book a consultation on short notice and as we gather GPs and specialist doctors under the same roof, you won't have to wait months to get a referral and see the right specialist.
The Midland Health team is committed to helping everyone understand their own health needs and support the necessary changes to aid a happy and healthy life for your entire family.
Our Specialist Services
Midland Health started off as a private GP practice and we still offer regular face-to-face and virtual consultations with our experienced general practitioners. In addition to this, we are always looking to expand and improve our services and we can currently have in-house specialist consultants in a wide range of medical areas, such as:
We are open to evaluation and feedback, so if you would like to speak with us about one of our services, please complete our contact form and a Midland Health representative will get back to you.
Our Story
Midland Health's founder Rupa Parmar worked as an NHS GP partner for nearly 10 years and became frustrated by the time pressures being placed upon hard-working clinicians trying to care for their patients. As it became increasingly hard to provide the highest-quality service, Rupa had an innovative idea to set up a new type of healthcare practice. Providing personalised care which considers lifestyle, mental health and wellbeing factors, Midland Health aims to empower every patient to live their best life.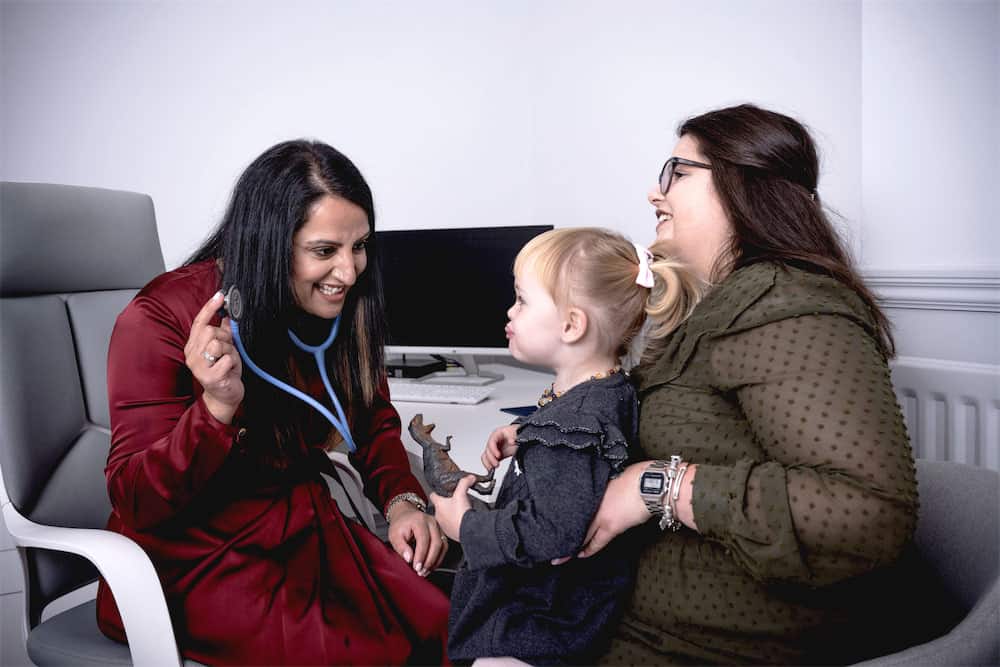 High-Quality Healthcare For All Ages
Midland Health provides specialist services for health needs at various life stages - from newborns, through childhood, adolescents, young adults, pregnancy to older age, chronic illness, acute illness, employment/work medicals and travel.
Flexible to the needs of the individual, Midland Health offers home visits or telephone consultations for those who cannot attend an appointment on-site. Appointments can be provided on the same day or at a future date to fit into your busy schedule.
Midland Health strives for excellence and keeps up to date with the latest research and national guidance. Our clinics are equipped with the latest technologies to get the quickest and most reliable results. We also maintain strong links with local NHS services and private hospitals so, as to ensure you get the right kind of care if a specialist referral is needed.
Our Team of Experts
Midland Health GP's pride themselves on providing a professional yet empathic bedside manner and are highly skilled as well as vastly experienced. Many Midland Health GP's practise in the NHS as well as working privately.
No concern is too minor, nor too complex, so you can come to us with any health concerns and we will be happy to give you expert medical advice. Your Midland Health GP will always be on hand to discuss the results of any testing and talk you through the next stages.
Book Your Appointment Today
Our innovative, personalised Private GP Service is only a click away. We're here for you and your whole family with our easy pay-as-you-go-service
Book Your Appointment Now
Would you like to hear more? Please submit any queries or feedback via our online form and a member of the team will respond within 24 hours.
Looking to book a consultation? Leave a telephone number and a Midland Health representative will get back to you with all the details you need to get the ball rolling! We're excited for you to see the full range of services we have to offer.
Midland Health wins the Outstanding Start-up Business of the year award for 2019.