Testicular Lumps and Pain
Home > Birmingham Urology Clinic >
Pain and lumps in the testes or scrotum are uncomfortable and can indicate serious health concerns. At our clinic, you can see a specialist urologist without a GP referral or spending weeks on a waiting list, providing almost immediate medical support.
Our urology clinic in Edgbaston is just outside Birmingham city centre and accessible via rail, bus or car. With appointments that work around you and in-house diagnostic and treatment equipment, our superior care is simple and convenient.
Our Service
We offer on-demand consultations with our urologists to diagnose and treat testicular conditions. Whether you have initial concerns or need an immediate expert opinion, you can book an appointment with us.
During your consultation, our urologists will examine the scrotum to identify any anomalies. This examination may include:
Feeling for lumps on the testes
Shining a torch through the thin skin to check for a fluid build-up
Depending on the assessment results, we may arrange additional scans, such as an ultrasound, to gather more information. Then, our urologist recommends the best treatment.
As with all our services, your appointments and medical information are confidential, and our clinicians will never share any details without your express permission.
Conditions We Treat
Pain, swelling or lumps in the testicles or scrotum can indicate many conditions, varying in severity and treatment. Spotting the symptoms early is essential; you should see a GP or urologist as soon as you identify them.
Hydrocele
Hydrocele is the build-up of fluid around the testes and usually comes from a defect in the fluid sack. We can treat it with a hydrocele repair, involving a small cut in the scrotum to drain the fluid and then repairing the fluid sack.
Epididymal Cyst
Benign cysts can appear on the epididymis, a tube at the back of the testes. Larger cysts often cause discomfort or feel like a lump; if this is the case, have a doctor assess them. We may conduct an ultrasound scan to identify cysts and surgically remove them.
Epididymo-orchitis
If your epididymis (a tube at the back of the testes) or testes become swollen and inflamed, you may feel painful tenderness, and the scrotum can appear red. This condition is known as epididymo-orchitis and often results from a urinary infection. We cure most cases with a month-long course of antibiotics and rest, although some may involve an abscess that needs draining.
Varicocele
A varicocele is a dilated group of veins in the scrotum. It affects 1 in 7 men between 15 and 25 years old. Although most cases are painless and require no treatment, a few individuals may experience an uncomfortable dragging sensation. Our radiologists can block the dilated veins with embolisation, or we can surgically ligate them laparoscopically or via a small groin incision.
Vasectomy
A vasectomy is a permanent contraceptive surgery that involves cutting the vas deferens tubes to prevent sperm from reaching the penile urethra. We perform the procedure under local anaesthetic in a day-case operation.
Testicular Cancer
Testicular cancer is the most prevalent solid cancer in 20-45-year-old men, although it can affect those outside that range. The most common symptom is a testicular or scrotal lump. However, loss of appetite or weight and male breast tissue growth are also signs. If you experience any of these symptoms, book an appointment with a GP or urologist to rule out testicular cancer.
When caught early, testicular cancer poses little threat, and we can treat it by removing the testicle or using radiotherapy, chemotherapy or retroperitoneal lymphadenectomy (dissecting the lymph nodes).
Meet Our Eurologist
We are immensely proud to offer consultations and treatment with a specialist urologist at our Edgbaston clinic.
Mr Rupesh Bhatt
Coming from Four Oaks Sutton Coldfield, Mr Bhatt is a Birmingham resident and understands his patients' needs thoroughly. He received a master's degree and medical training from Cambridge University before completing senior uro-oncology training at the Christie Hospital, Manchester, where he studied under renowned Professor Noel W Clarke. He achieved a fellowship in uro-oncology in Melbourne, Australia, and now works as a senior Consultant Urological Surgeon at the Queen Elizabeth Hospital.
Outside his surgical work, Mr Bhatt has conducted multiple research projects, totalling research grants of £70,000 and winning several awards. He also featured in the BBC programme 'Surgeons: At the Edge of Life: Last Chance Saloon' (Series 1, Episode 2), which showcased his surgical ability.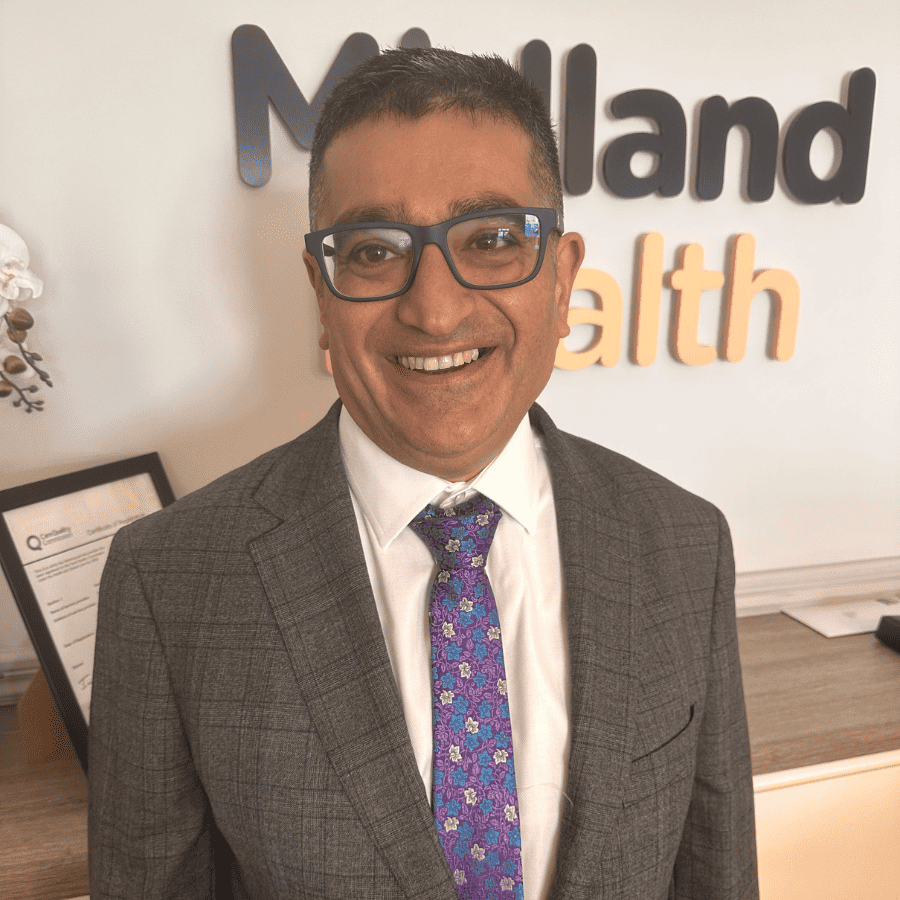 Booking an Appointment
You can book a specialist consultation simply via our online booking form. Choose a time and date that fits your schedule and whether you need a new or follow-up appointment.
During your consultation, Mr Bhatt may recommend additional scans and tests to diagnose your condition. We can book these appointments whilst you are at our clinic, and our reception team will explain everything. Or, if you prefer, you can book them online.
Why Choose Midland Health?
When you experience testicular swelling or pain, the risks make immediate medical attention essential. We do not have waiting lists or GP referrals; you can see a consultant at a time that suits you. Plus, we can conduct consultations, scans and treatment from our state-of-the-art medical facility in Edgbaston, Birmingham, so you do not need to travel to receive our care.
You are our priority, and all our staff, from our receptionists and GPs to nurses and consultants, provide superior medical support. You can ask them anything, giving you vital peace of mind.
In-house diagnosis and treatment
Appointments with nationally renowned consultants
Immediate support without GP referrals or waiting lists
A cutting-edge medical clinic equipped with the latest technology
Outstanding patient care and attention
See Our Specialists Today
If you have experienced any testicular lumps or pain, seeking medical attention soon is vital. You can book a consultation with our specialists within days to get the necessary support.
If you need more information, please call our friendly reception team on 0121 769 0999. We can answer your questions and provide more information about our services.